Shopping Cart
When you have found and previewed the music you want to buy, click on Add to Cart and our site will display a message that the sheet has been added to your cart. If you're ready to complete your order, click Buy Now and you will be taken to your Shopping Cart page. If you're not quite ready to purchase but would like to save the item for later, you can click on Add to Wish List.
The Shopping Cart lists the items you have added, the cost of each one, and the running total so far. You can access your cart at anytime by clicking the cart icon at the top of every page.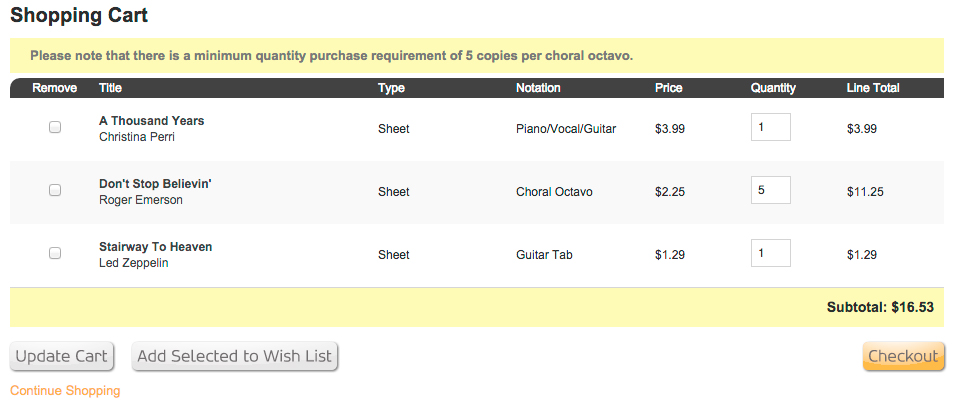 You can remove an item from the Shopping Cart by checking the box and clicking Update Cart. You can also change the number of copies of an item you want by updating the quantity to the required number and clicking Update Cart. If you're not quite ready to purchase a particular item but would like to save it for later, you can check the box next to the item and click Add Selected to Wish List.
Cookies
If you can't see anything in your cart, your browser may not be set up to accept cookies. Check your browser's security settings to find out. If your computer won't accept cookies, our server can't keep track of who you are or what you're ordering.
Cookies are tiny files that SheetMusicDirect.us sends to your browser and that are stored on your computer. They help SheetMusicDirect.us keep track of the contents of your Shopping Cart and your currency preferences. They are completely harmless.
Going to the next stage
From the Shopping Cart page you can go back into the site and look for more titles until you have selected everything you want. When you have finished shopping and want to place your order, click the Checkout button. This will let you either log in to your existing account or set up a new account.
Read more about Your Account.